(Listen to the audio for this blog)
Thanks for signing on. I'm Bob Carkhuff, and this is Freedomblog.
The theme for today is Secrets of the Marketplace.
For thinking people, this means that multi-modal curves best represent the market.
As most Americans, I look for the current utility of past traditions in order to see if we can build upon them. One of the "tricks of the trade" has been to find exemplary performers—past or present—and to study them in operational and measurable terms. Armed with insights from this analysis, we can generate new images of exemplary performance in the future.
In my many voyages discovering these exemplars, I have been blessed by some of the most important people in my life and my work. I would like to take you, the listener, on one of these discovery voyages and introduce you to my guide.
Our voyage is into the marketplace. Our guide is John T. Kelly, D.Sci., or "Doctor Jack," perennial winner of "Salesman of the Year" and former director of The Office of The Future at IBM, Inc.
When we first met, Jack was a project director at Advanced Systems Design, which helped define IBM's R & D effort: The Watson Center directed research and A.S.D., Advanced Systems Design, directed development.
Jack's project at A.S.D. was The Educational and Career Exploration System, or ECES, a computer-based career development system.
When we began our voyage with Jack, we discovered the critical ingredients in the dissemination of all information—Human Processing: information depresses performance if the user does not know how to process it.
When we continued our voyage, we designed the first Interactive Software System—interactive between humans and information, that is: Creating a matrix of human values and career requirements which enabled the user to maximize meeting both at the highest levels.
Now as we conclude our voyage together, we have discovered the secrets of the marketplace and, thus, the secrets to positioning in the marketplace.
Any senior executive will tell you, "Positioning in the marketplace is 99% of the success in the market."
All honest senior executives will also tell you how much training they have in marketplace positioning: "Nothing! Absolutely nothing!"
Market strategists illustrate the marketplace with a bell-shaped curve. The biggest market secret revealed to us on our journey is this: there is no such thing.
The truth is, the market curve is not a "normal curve." Indeed, nothing in the universes is linear, normal, and symmetrical. To be sure, the so-called market curve is comprised of multiple market curves: it is "multi-modal." Each curve, in turn, is itself multidimensional as well as asymmetrical and changeable. We may describe these market curves as follows:
Generator—Stimulating markets through scientific breakthroughs;
Innovator—Initiating markets through technology transfers;
Commercializer—Culminating markets through consumer-responsive products and services;
Commoditizer—Draining markets through producing more for less;
Attenuator—Breaking markets through product "dumping."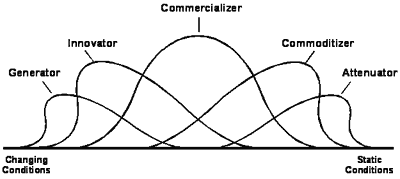 Carkhuff, R. R., et al. The Freedom Wars. Amherst, MA: HRD Press, 2004
For our purposes, we label these market phases with the acronym "GICCA." Generator, Innovator, Commercializer, Commoditizer, Attenuator. Placement in these curves has profound implications for nations, cultures, businesses, people, and products. The multi-modal curves dominate The Global Market, as do "mini"-multi-modal curves within these curves.
Clearly, it is most attractive to be driving the markets from the Generator's positioning. This means you define the marketplace. If you mobilize the resources of innovation in technology development and commercialization in marketing and sales, you will be positioned for comparative advantage or competitive edge in the marketplace.
However, if you do not mobilize the follow-through resources of innovation and commercialization, your breakthroughs will be exploited by others. Moreover, the costs of research may be prohibitive and the delays in benefits protracted.
Signing off for Freedomblog, this is Bob Carkhuff.
Remember, We the People, that the GICCA Curve best represents the market—Generator, Innovator, Commercializer, Commoditizer, Attenuator. Think about it!
We invite your comments. Send to Bob@Freedomblog.com.
"May the road rise to meet you
And the wind be at your back."