The principles of generativity are simple, yet profound:
Relate to images of phenomena;
Represent images of phenomena;
Reason with images of phenomena.
These are the effective ingredients of thinking generatively.
In reverse order, we cannot think generatively before we have represented the phenomena ideationally. Similarly, we cannot represent ideationally before we have related to images interpersonally.
The probabilities scientists have given us normal curves: nice, linear, idealized symmetrical distributions around central tendencies such as means or averages. The curves tell us something about where people and products stand in relation to this central tendency. The work of the 20th century has been based upon these probabilistic assumptions. The mission of the 20th century has been to move toward reducing our deviation from this idealized central tendency: in other words, to look more and more like the middle of the curve.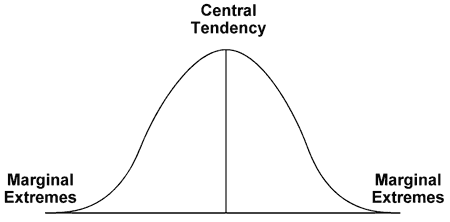 Figure 5. The Normal Curve
The normal curves also attempt to tell us how people and products move through the phases of the curve. For example, the normal curve has been adopted by the marketplace to reflect the movement of products and people through market phases: opinion leaders, early adopters, middle adopters, late adopters, laggards or non-adopters (see Figure 6). While this approach has produced an extraordinary array of products and services, it has simultaneously generated apparently finite images of people who look and act and think alike.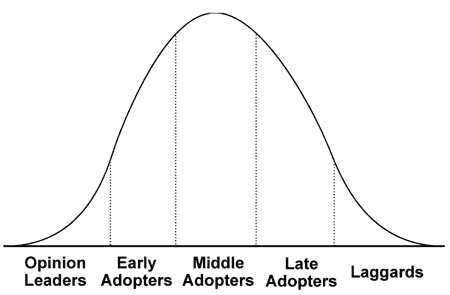 Figure 6. The Market Curve