Happy Labor Day!
We want to wish American Labor a Happy Labor Day, no matter what the data suggest:
With most of the world's countries participating in globalization, the growth of world trade has tripled to nearly $12 trillion.
With increased mobility of financial capital, financial markets have expanded to $16 trillion or nearly 30 percent of the world's GDP.
With high profits serving to improve and redistribute both investments and productivity growth, globalization has generated a huge increase in the shares of profits.
To sum, Globalization has generated unprecedented global growth under America's leadership. However, while the pie is getting exponentially larger, American's share is becoming relatively smaller and American labor's role is attenuating, if not truncating. Things change!
We may view American labor's positioning in Figure 1. As may be noted, the World's GDP Growth has moved to incorporate Globalization. Simultaneously, this growth movement has abandoned the labor movement: its default positioning is as the "dependent victim" of successful globalization.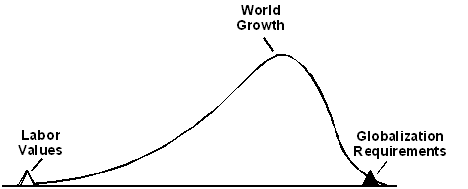 Figure 1. World Growth Movement to Incorporate Globalization
and Abandon Labor Movement
So what initiatives does American Labor make? Accepting its victimization as its positioning, labor has asserted the following "Protectionistic Platform:"
Protectionism for the benefits of American labor;
Environmentalism for the benefits of the environment;
Health and Safety for the benefits of all labor.
While we may agree with the humanistic values expressed in this platform, we may also agree that these values do not approach meeting the business requirements of the world's growth.
In short, America Labor's positioning is a "loser." It offers no "comparative advantage" in the marketplace. Indeed, it has lost its "courage to change."
It has already imposed its "Protectionistic Will" upon the "Maleable Candidates" for President, asking—no begging—for no less than trade sanctions with China if that country does not soon revalue its currency.
Perhaps the most dangerous consequence of its "Protectionistic Positioning" is America's loss of confidence in its Free Market Ideology. We are the generators of globalization. We are the leaders—the models and the agents of its change. How can we now abandon our children to the "Totalitarian Onslaught" of nations with "Ignominious Motives?"
The "winner's question" is this: Are labor's people robust enough intellectually to realize that this worthy movement must be repositioned in the marketplace?