Over the last few weeks, we have been barraged with more empty promises, and interpretations, (presidential candidates McCain and Obama each have their own version) on what it means to be a patriot. And with all that has been written what do you, the reader, remember? What stayed closest to your heart, if anything.
Indeed, did any of our "distinguished patriots" or their surrogates even bother to look up the origin of the word, patriot? It is "pater" from the Latin word for father. So what does that mean? Are our "distinguished patriots" going to now function as responsible fathers? Hopefully!
Now hear this: Patriotism is the SINGLE most important thing required to build America's future. These next few weeks I will be bringing you my latest series of freedom-casts on modern patriotism–beginning with one of my favorites, "You Don't Have to Be A Soldier." I hope you can relate. Remember freedom is thinking. Send us your comments.
Bob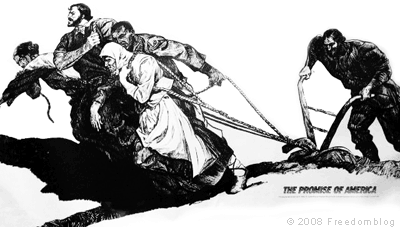 Dear Parents:
We were so proud of you. Whether you fought in foreign lands or worked on the home front, you delivered America from its "darkest hours." You collaborated and survived "The Great Depression." You related interdependently and won "The Great War to End All Wars." You were our heroes.
You impacted us in our formative years with your confidence, your initiative, and your embrace. It was not long after the war before we saw you in your full glory.
The men from The Suburban Civic and Social Club came to us kids with a proposal to form a baseball team to compete in the City League and then the County League. We were eager. After a few days of practice, Mr. Messina, Mr. Pecina, and Mr. Crowley came to me with a proposition: "You manage the team and we'll support you."
I now understand the foundation of this initiative. As "Citizen-Soldiers," they had learned how often their "out-of-touch" officers were wrong. Their proactivity launched me on a lifelong career of "player-coach." I had my first lesson in "Cultural Relating."
Later on, others from the Club took the initiative of inviting the young people as well as the older members to political presentations and debates, not unlike those we witness today. The Haskills, the Koehlers, the Meyers were all of the same persuasion regarding the education of the kids: "It's pay me now or pay me later!"
Again, I understand this first-generation American attitude toward their Democratic Government and its Constitutional Foundation. Their attentiveness committed us all to political membership in "Participative Governance."
Still later, the Christiani brothers from the neighborhood invited the young people to participate in the economy by managing paper-routes. For responsibilities for delivering more than 100 papers over a square-mile district, we received $3.50 a week, much of which we spent at the Sunnyside Sweet Shop that the Christianis ran. But we learned so much more than we earned about baseball, girls, and life: "Take two and hit to right!" This was Nick's answer to all of these questions. In addition to introducing us to the facts of life, these generous men introduced us to "Free Enterprise Systems" that empowered us throughout our lives.
When we asked you "How come they are so good to us?", you answered "Because they are patriots!"
When we began to retort, "But we thought you had to be…," you interjected a life-long commandment: "You don't have to be a soldier to be a patriot!"
We owe a profound debt of gratitude and love to you. You were the models and agents for our development. Mostly, you were first-generation Americans who believed in "The American Dream" and passed it on to us in terms of "The American Experience."
In this regard, we have good news and bad news. For more than 50 years, we have grown and prospered with these "American Commandments" imprinted in our frontal lobes: relating, participating, enterprising.
Now, today, we are faltering under the burden of the complexity of our times. We have leaders who do not even remember these commandments. To be sure, we have candidates for president who want to rewrite our U.S. Constitution to emphasize their exclusive ideologies. Thank God, you did not!
We just wanted to drop you a line in case you are not watching us to tell you that we need you again! We need your commandments! We need your generosity! We need your embrace!
We are all "Forgotten Americans" because everyone talks and no one listens; because everyone dictates and no one participates; because everyone hesitates but no one generates!
We will not be forgotten if we remember each other and the patriots and why we cobbled this "Great Nation" together, and the "Great Freedoms" it has yielded.