The third most important plank in the presidential platform is organizing to process interdependently:
The Productive Organization must be dedicated to interdependent processing within, between, and among all units and people.
For America, this means abandonment of the totalitarian Multinational Model and the return to The Entrepreneurially-Driven Free Enterprise Model that generates and integrates New Capital Development or NCD Systems at all levels of The Productive Organization (see Figure 4).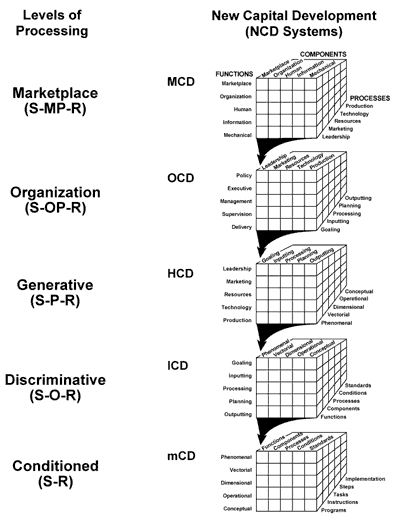 Figure 4. The Productive Organization
As may be noted, The Productive Organization follows the principles of Possibilities Science:
Lower-order NCD Systems are nested in higher-order systems.
Lower-order NCD Systems are encoded by higher-order systems.
Lower-order NCD Systems may be rotated to higher-order functions.
As may also be noted, all NCD Systems emphasize developmental and cumulative levels of processing:
mCD or Mechanical Tooling Systems emphasize S–R Conditioned Responding Systems.
ICD or Information Modeling Systems emphasize S–O–R Discriminative Learning Systems.
HCD or Human Processing Systems emphasize S–P–R Generative Thinking Systems.
OCD or Organizational Alignment Systems emphasize S–OP–R Generative Organizational Processing Systems.
MCD or Marketplace Positioning Systems emphasize S–MP–R Generative Marketplace Processing Systems.
Again, all lower-order NCD Systems are nested in higher-order systems.
In summary, The Interdependent Organization is dedicated to the Prosperity Mission of The Possibilities Community; e.g., Cultural Relating empowering the Peace that enables Participative Governance to accomplish The Free Enterprise Functions.