The second most important plank in the presidential platform emphasizes a return to Community Development as the basic mechanism for implementing Generative Economic Positioning:
The Prosperous Community must be dedicated to the entrepreneurial generation of self-sustaining prosperity, participation, and peace.
Community Enterprise is the basic mechanism for solving community problems and achieving community goals through generating Prosperity. As may be noted, The Prosperous Community processes interdependently (see Figure 3).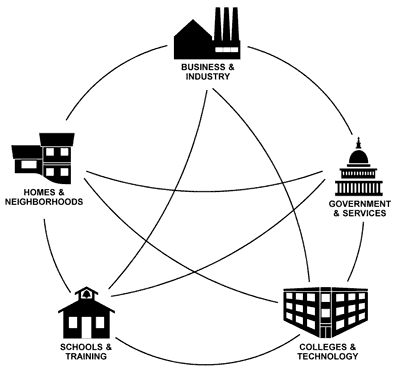 Figure 3. The Prosperous Community
In turn, each component of The Prosperous Community contributes synergistically to the others' growth:
The homes and neighborhoods prepare the human potential.
The schools and training empower the learners to discriminate information resources.
The colleges and technologies empower the human and information capital as generative processors.
The government and services generate the organizational processes in which the human and information capital are applied.
The business and industry generate the marketplace processes that "capitalize" upon the organizational, human, and information capital.
In this context, each component of The Prosperous Community emphasizes processing systems which are developmental and cumulative:
Homes — S–R Conditioned Responding;
Schools — S–O–R Discriminative Learning;
Colleges — S–P–R Generative Thinking;
Governance — S–OP–R Generative Organizational Processing;
Business — S–MP–R Generative Marketplace Processing.
In summary, The Prosperous Communities are dedicated to the Generative Economic Mission of The American Enterprise Model. Cultural Relating empowers the Peace that enables the Participative Government to accomplish the Free Enterprise Economic Mission.