Here is what we know so far:
America's leadership has generated the greatest world growth in prosperity in the history of the world.
The Freedom Functions have accounted for American leadership in generating prosperity.
America has retrogressed in her level of Freedom Functions in the first part of the 21st century.
The critical question is this: how can America regain its pre-potent leadership role in generating world socioeconomic growth?
The Freedom Models
American leaders must retrace their own paths in generating prosperity:
The Freedom Functions were part of the evolution of American civilization focusing on its dominance in Free Enterprise.
The New Capital Components were part of the empowering evolution of The Freedom Functions.
In other words, New Capital Development or NCD made The Freedom Functions possible.
In Figure 5, we may view the operations of the NCD components and Freedom Functions in The Freedom Matrix. As may be noted, the NCD components directly empower The Freedom Functions. This means that the higher the levels of functioning on NCD, the higher will be our functioning on The Freedom Functions.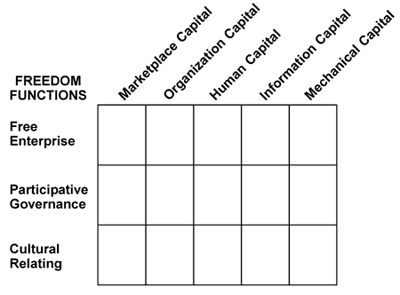 Figure 5. The Freedom Matrix
In Figure 6, we may view The Freedom Model which adds the third dimension of the enabling Human Processing Systems. In other words, the processes enable the NCD Components to empower The Freedom Functions. Once again, the higher the Human Processes, the higher will be the empowering NCD Components.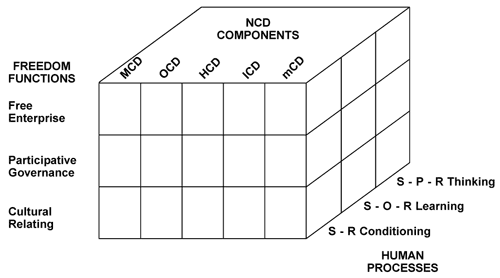 Figure 6. The Freedom Model
In summary, the Recovery Architecture emphasizes the elevation of all dimensions of The Freedom Model:
Human Processing
NCD Components
Freedom Functions
America must rededicate herself to the dimensions that made her great. The dimensions are operational and replicable. We did it before and we can do it again! And again!