Over the last century, the U.S. defined the emerging requirements of The Global Marketplace:
Free Cultural Relating,
Free Enterprise Economics,
Free Participative Governance.
These are the requirements for entry into the 21st century marketplace. They also define the American Mission. Historically, this is how the U.S.A. was rated by subject-matter experts in 2000.
Cultural Relating
Simply stated, a nation must relate culturally—within, between and among cultures—in order to join The Global Marketplace. American leaders have always set their goals high on Cultural Relating (See Figure 1). Even transitionally when they retreated to independency or competitiveness, they never surrendered the ideas of collaborative relating. While their definitions of interdependency may have been limited, they were nevertheless striving toward it.
In 2000, the U.S. was rated at level 4.0 on Cultural Relating, reflecting its commitment to collaboration without real motivation for interdependency (perhaps as a function of the conflict of individualism with consensus), except within rare homogeneous cultural groupings.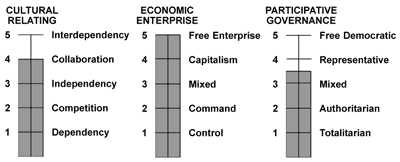 Figure 1. Levels of The Freedom Functions (2000)
Economic Enterprise
The U.S.A. has been dedicated to Free Enterprise at the highest levels. Succinctly, the U.S. Constitution, protecting private property and, in an amended form, civil and economic liberties, provides a strong foundation for the nation's free and dynamic economy. In addition, the U.S. has taken the leadership in promoting free trade, not only with neighbors in the Western Hemisphere but with nations around the world. While not yet having realized its mission of Universal Free Enterprise, the U.S. has been the world leader, par excellence.
In 2000, the U.S. was rated at level 5.0 on Free Enterprise, reflecting its aspirations for reciprocal trade at the highest levels (See again Figure 1). Whatever the obstacles, and however they were resolved through Collaborative Processing, there would be no vision of The Global Marketplace without America's highly initiative leadership; there would be no standards for Prosperity and, thus, for the evolution of the American and World Civilization!
Participative Governance
The U.S. has also been dedicated to Participative Governance at high levels. While its citizens are guaranteed pre-potent policymaking functions by the U.S. Constitution, its representative democracy often migrates into a "role reversal" where citizens serve politicians and bureaucrats. Nowhere has American promotion of democracy been more problematic than in attempts to impose it upon foreign cultures. Participating begins with relating to other's frames of reference before empowering them to achieve their own unique purposes. That is the true nature of democracy. There is no freedom without empowerment! There is no empowerment without relating!
In 2000, the U.S. was rated at level 3.5 on Participative Governance (See again Figure 1), reflecting the inconsistent nature of its attempts at making representative governance work; stumbling that led precipitously to representative self-aggrandizement; stumbling that yields disastrously to authoritarianism by default.
To sum, in 2000, the U.S. received relatively high ratings on The Freedom Functions:
Collaborative Relating,
Free Enterprise Economics,
Mixed Representative and Authoritarian Governance.
The good news was that, however "ugly" externally, the U.S. continued to relate collaboratively internally and with friends and neighbors. Moreover, the U.S. was convergent externally and internally with its path-finding Free Enterprise Mission. The bad news was protecting a democratic image in an authoritarian manner externally while meaningful participative governance was dissembling internally.