(Listen to the audio of this blog.)
Thanks for signing on. I'm Bob Carkhuff, and this is Freedomblog.com from our continuing series on "Case Study Venezuela."
The theme for today is A Passion for Freedom.
For thinking people, this means that the totalitarians are committed to leveling down everything and everyone.
We may view the individual goals of Freedom and Totalitarianism in sharp relief in Table 1 below:
Interdependent versus Dependent Relating;
Generative versus Distributive Economics;
Leader versus Follower Participation.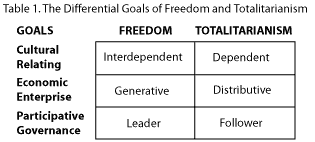 At their highest levels, the Freedom Goals empower and free interdependent relating, wealth-generating participants with leadership qualities.
At their highest levels, the Totalitarian Goals control dependent-adaptive, wealth-redistributing followers of "chain-of-command" systems.
It is noteworthy that the highest levels of Totalitarian Performance are the lowest levels of Free Performance. And vice-versa! Which world do you choose?!
Right now, the Totalitarian Leadership holds the reigns of power. But, with no history of success anywhere—ever—and no investments to meet the changing conditions of the Global Marketplace, Totalitarian Venezuela has nowhere to go but down! At some point soon, the authors of this "Concrete Utopia" will be asked, "Where's the money?"
In transition, Free Venezuela sought to follow this model and become Latin America's exemplary performer of the Freedom Functions. Unfortunately, she "got caught from behind" because:
She moved too slowly!
She moved too little!
She was too satisfied!
In short, she lacked the vigilance that is "The Price of Freedom."
Finally, there is the story that Venezuelans often told about themselves good-naturedly:
When God created the world, He gave an abundance of resources to Venezuela.
When His helper asked, "Why?", he answered mischieviously:
Ah, but now I am going to populate it with Venezuelan people!
Perhaps many Venezuelans will no longer find the humor in this story.
Perhaps the Venezuelan people will never again see the humor in anything!
Perhaps Venezuelans may never feel passion again for anything, for if they cannot experience "a Passion for Freedom," then they cannot experience passion at all!
Perhaps there is a message here for the citizens of the U.S.!
Signing off for Freedomblog, this is Bob Carkhuff.
Remember, We the People, if we do not have a passion for freedom, we cannot have a passion for anything. Think about it!
We invite your comments. Send to Bob at Freedomblog.com.
"May the road rise to meet you,
And the wind be at your back."