(Listen to the audio of this blog.)
Thanks for signing on. I'm Bob Carkhuff, and this is Freedomblog.
The theme for today is Roadmap to Freedom.
For thinking people, this means that the current model of American Enterprise must implement Generative Innovator positioning.
The march of civilization is the march of freedom. Free enterprise has brought us free markets and global trade. Participative governance has given us democratic governments and individual rights. Cultural relating has yielded human rights, meritocracy and social security. The human benefits are hard to calculate.
And yet the march of civilization is not without costs to its promulgators. The treatment of the U.S. in the global marketplace is consistent with the adage, "No good deed goes unpunished!" Until the 21st century, America has been the source of more than 90% of the generative breakthroughs in science and the innovative variations in technologies. Still, they are not necessarily the beneficiaries of their intellectual processing.
Take the case of Intel's $2.5 billion semiconductor chip fabrication plant to be built in China. "Innovated in America—Commercialized Elsewhere!" is the new trade paradigm. There are as many possible manipulations to ensure the benefits of creativity as there are criminal machinations to steal intellectual property. But there is only one enduring leadership paradigm: Generativity! This is the fuel for "The Roadmap to Freedom."
American Enterprise leads in the GICCA Marketplace. In other terms, Generativity drives Free Enterprise Economics, requires Free Democratic Governance, and is enabled by Interdependent Cultural Relating.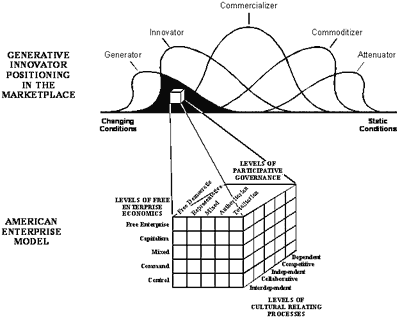 (click image for larger version)
If we create, we can drive future markets. This means that we are continuously changing the marketing paradigm and the playing field on which it is enacted. Remember, Generators are aligned with change! We can "Reverse any 'U-Turn'."
In order to continue to exercise Generative Leadership, we must follow the "Roadmap to the Freedom Functions—Peace, Prosperity and Participation:
Interdependently-driven Cultural Relating to generate Peace;
Entrepreneurial-driven Free Enterprise to generate Prosperity; and
Electronically-driven Participative Governance to generate Participation.
The cost of "The Roadmap to Freedom" is high: Continuous generative processing for continuous peace, prosperity, and participation requires "skilled, generative, thinking people."
Our "Voyage of Discovery" has yielded our roadmap.
Our "Human Brainpower" will implement it.
We can create our own "Changeable Destinies."
Freedom is thinking!
Signing off for Freedomblog, this is Bob Carkhuff.
Remember, We the People must implement Generative Innovator positioning. That is the "take-away" for everyone's "Roadmap to Freedom." Think about it!
We invite your comments. Send to Bob@Freedomblog.com.
Thank you Tom! Thank you Jack!
May the road rise to meet you
And the wind be at your back.